About Anne-Laurence
Professional Background & Qualifications
Anne-Laurence Fritsch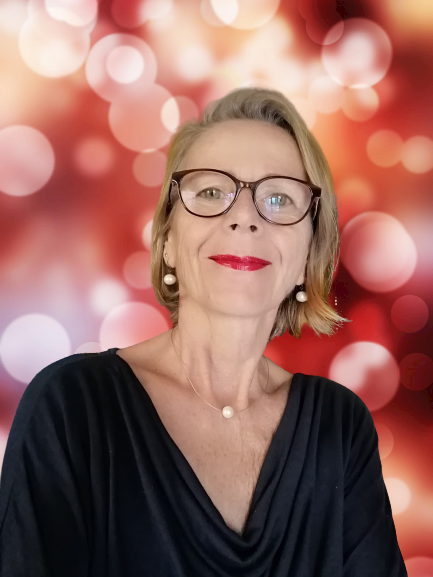 French-born Anne-Laurence Fritsch, 63, lived in Australia for about 20 years. She did her main university studies there, namely in Educational Studies and psychology and worked in Sydney as a Teacher Trainer and teacher to Adults for 10 years.

In 1998 she founded ICA International Communication Assistance LTD in Reunion, providing services to local and regional companies in translation, conference interpreting, business English and coaching techniques.

Throughout the years she has kept expanding her knowledge and skills in therapeutic techniques through professional courses namely in NLP, Ericksonian hypnosis and hypnotherapy. She did her professional training in France, Canada (British Columbia and Quebec), U.K. and Australia.

Beside the professional courses she provides through ICA to health professionals and practioners of alternative medicine, she also provides individual sessions in life coaching to children and adults.

As an active member of the following professional federations, she abides by their respective Code of Ethics.

AFNH : Association Française de Nouvelle Hypnose (Paris, France)
IACH Canada : International Association of Counselling Hypnotherapists, Canada, British Columbia
Fédération NLPNL, France
GHR : General Hypnotherapy Register, Great Britain

Her University Diplomas:

Bachelor of Arts Degree, Double Major : anthropology/linguistics and foreign languages. University of Western Australia, 1981 (4 years' studies)
Diploma in Education : French, Italian, ESL. Special Methods of Teaching. University of Sydney, Australia, 1984
Diploma in Translation and Conference Interpreting. University of Paris 8 - Vincennes, France, 1983
Professional Certifications and Titles:
NLP Master Practitioner. Title validated by INLPTA (International NLP Trainers' Association).

Ericksonian Hypnosis Practitioner, i.d.com international, Canada.

Humanist Hypnosis Practitioner. IFHE, Paris (Institut Français d'Hypnose Ericksonienne)

Counselling Hypnotherapist certified by IACH (International Association of Counseling Hypnotherapists), Canada, British Columbia
Operator in Flash Hypnosis®, IEHI in Paris European (Institute of Integrative Hypnosis)
Diploma in Past Life Therapy (Past Life Therapy Association, UK)
GQHP : General Qualification in Hypnotherapy Practice.
Validated by the General Hypnotherapy Standards Council GHSC in Great Britain.
SQHP : Senior Qualification in Hypnotherapy PracticeRegistered in the General Hypnotherapy Register (GHR) of Great Britain. Registration Number